KIEV (Sputnik) – Talks with the radical Ukrainian Right Sector paramilitia, who had been offered to join the country's armed forces, could conclude in the near future, Ukrainian Defense Minister Stepan Poltorak said on Wednesday.
Poltorak explained that each individual who carries a weapon should have an official status and claimed that every single armed group in Ukraine should join the armed forces, engaged in the armed conflict against independence supporters of the country's southeast.
"Preliminary, we are talking about one battalion to enter the Ukrainian army. We are working out mechanisms to make this correctly and smoothly, and I think this issue will be shortly resolved," the minister said.
In late March, the far-right militia said it was unwilling to become part of Ukraine's National Guard, controlled by the Ministry of Internal Affairs, but said it could agree to join the Defense Ministry as a separate combat unit.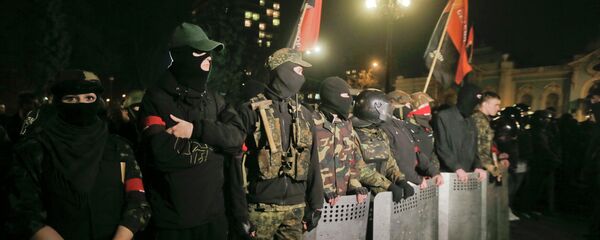 Moscow has repeatedly expressed concern over the rise of neo-Nazism in Ukraine. Far-right groups, including the Right Sector, were engaged in the overthrow of former President Viktor Yanukovych as well as in Kiev's military operation against pro-independence militia in the country's southeastern provinces.
In October 2014, Russian President Vladimir Putin warned against a rise of neo-Nazism in Europe. Putin expressed concern that manifestations of radical nationalism have become increasingly common.
In December, Russia called all UN member states to endorse a resolution against glorification of Nazism. Ukraine, the United States and Canada were the only countries to vote against the document.