The pair of 4,000-ton Type 54A Jiangkai II frigates – Linyi (574) and Weifang (547) will be based at the Novorossiysk naval base and take part in the Victory Day celebrations from May 8 until May 12.
They will then join Russian ships for their first ever military exercise in the Mediterranean, Russian Navy spokesman Igor Dygalo explained on Thursday.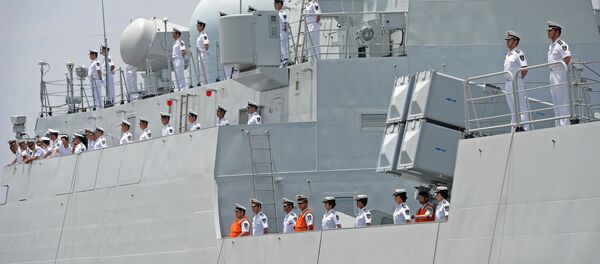 China's 19th naval escort task force consisting of a Type 903 replenishment ship and two Type 054A guided-missile frigates entered the Black Sea through the Bosphorus on May 4.
Some media sources earlier speculated that the pair of frigates will remain until Chinese President Xi Jinping arrives in Moscow to commemorate the 70th anniversary of the end of the Second World War in Europe.
President Xi Jinping of China has accepted an invitation from President Vladimir Putin to attend the Victory Parade in Moscow and is due to arrive in Russia on 8 May.
The Taiwan-based Want China Times also suggested that the visit of the two frigates could also be for commercial reasons. The Chinese Navy might be using the Mediterranean exercise as an opportunity to show off the ability of its Type 054A Jiangkai II-class frigates to the Russian Navy.