WASHINGTON (Sputnik) — Boston Marathon Bomber Dzhokhar Tsarnaev's attorneys are reaching out to an outspoken anti-death penalty Catholic nun to come to their client's defense and save him from the death penalty, according to media reports on Thursday.
"The attorneys for Dzhokhar Tsarnaev want Sister Helen Prejean, the nun and anti-death penalty advocate made famous in the movie 'Dead Man Walking,' to testify," CBS Local Boston reported.
US government prosecutors will attempt to prevent Prejean from testifying in court, according to media reports.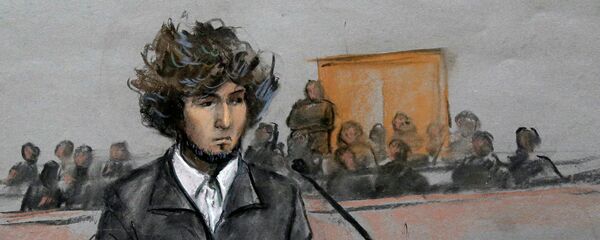 The federal jury will decide next whether Tsarnaev should be sentenced to death or life in prison.
The local media also noted that Tsarnaev authored aggressive notes after being captured by US authorities while lying in his hospital bed.
"A prosecutor says Boston Marathon bomber Dzhokhar Tsarnaev wrote defiant notes while he lay injured in a hospital bed after his capture," The Boston Herald reported.
Tsarnaev wrote "one hostile note after another" following Tsarnaev attorney Miriam Conrad's attempt to show that he was neither defiant, hostile nor uncooperative, the media quoted US Attorney William Weinreb as saying.
On April 15, 2013, three people were killed and more than 250 injured after Dzhokar and his brother Tamerlan planted two bombs near the finish line of the Boston Marathon. Tamerlan was killed in a shootout with police days after the bombing.