MOSCOW (Sputnik) – Russia's Chechen Republic has sent about 150 metric tons of aid to the self-proclaimed Donetsk People's Republic (DPR) as part of a special humanitarian program dedicated to the 70th anniversary of the victory over Nazi Germany in WWII.
"The veterans of the Great Patriotic War were the first ones to receive the aid," Chechen leader Ramzan Kadyrov wrote on his Instagram page late on Friday, saying that the humanitarian assistance included food and items of first necessity.
In a separate Instagram post, released in the early hours of Saturday, Kadyrov congratulated WWII veterans with Victory Day, celebrated on May 9.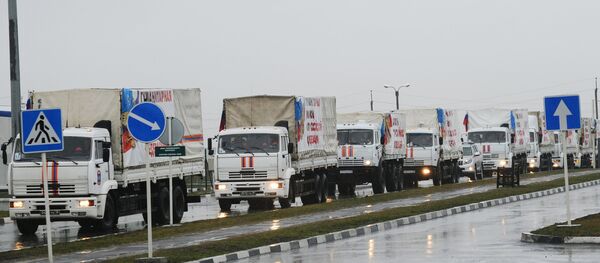 Russia has been consistently delivering aid to the crisis-hit southeastern Ukraine (Donbass) since August, 2014.
At the end of last month, Russia's 25th humanitarian convoy brought over 1,400 metric tons of aid for DPR and LPR (Lugansk People's Republic) residents, which included presents for Donbass WWII veterans.
Donbass residents are on the brink of a humanitarian catastrophe in the aftermath of the military operation that Kiev launched in southeastern Ukraine in April, 2014, to suppress local independence supporters.
The region has also been suffering from an economic blockade imposed by Ukrainian President Petro Poroshenko in November, 2014, which led to all state-funded health, educational and social protection organizations being withdrawn from Donbass.
Russia plans to send another humanitarian convoy to Donbass on May 14.