UNITED NATIONS (Sputnik) — The shelling of civilian areas by the Saudi-led international coalition violates international humanitarian law, according to UN Humanitarian Coordinator for Yemen Johannes Van Der Klaauw.
On Friday, the coalition continued to carry out airstrikes on rebel positions in Yemen's Saada province that borders Saudi Arabia.
"The indiscriminate bombing of populated areas, with or without prior warning, is in contravention of international humanitarian law," Van Der Klaauw said in a statement on Saturday.
The UN Humanitarian Coordinator for Yemen added that he is "deeply concerned" over the impact of Friday's airstrikes on Saada.
"Scores of civilians were reportedly killed and thousands were forced to flee their homes after the coalition declared the entire governorate a military target. … The targeting of an entire governorate will put countless civilians at risk," he stressed.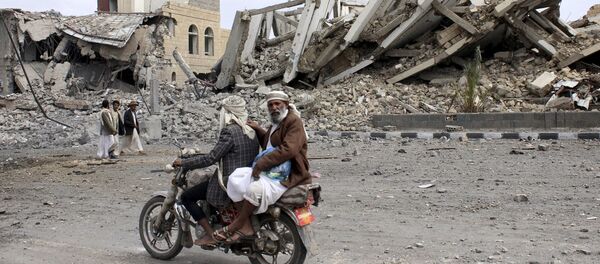 Van Der Klaauw pointed out that the situation is aggravated by the fact that many civilians are trapped in Saada since they can not access transport due to the fuel shortage.
Yemen has been engulfed in violence and political deadlock since late 2014, when rebels took control over large swathes of the country, including the capital Sanaa. President Abd Rabbuh Mansur Hadi was ousted earlier this year.
On March 26, the Saudi-led coalition of Arab states started conducting airstrikes on Yemen, targeting Houthi rebel positions at Hadi's request.
On April 21, the coalition said it had ended the Decisive Storm military operation and announced the start of the Restoring Hope campaign, saying it would focus on counter-terrorism and humanitarian efforts. Despite the announcement, the airstrikes have continued.
More than 1,400 people, about half of them civilians, have died in Yemen since mid-March, according to recent UN estimates.