MOSCOW (Sputnik) – The Russian president said that Russia would seek to resolve problems that have a negative impact on the relations between Moscow and Berlin.
"We have done a lot to ensure that relations between Russia and Germany are developing successfully and have achieved a lot in this direction. There are various problems today [between Russia and Germany]. The sooner these problems end their negative effects on developing our relations, the better. We will strive for this," Putin told Merkel in the Kremlin.
Merkel noted that Russia and Germany need to cooperate in solving the "difficult situations" between the two countries.
"We need to work, including in cooperation in difficult situations as they are now and strive to finding diplomatic paths [to solving them]," Merkel responded to Putin.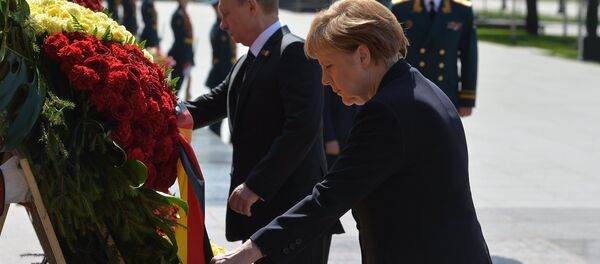 Along with several other Western leaders Angela Merkel decided not to attend the Victory Day parade in Moscow marking 70th anniversary of the victory over Nazi Germany. Heads of nearly 30 foreign states and governments, however, arrived in Moscow the next day to honor the memory of millions of Soviet people who had been killed during World War II, as well as to hold a meeting with the Russian leader.
Earlier in the day, the two leaders took part in a wreath-laying ceremony at the Tomb of the Unknown Soldier near the Kremlin walls in Moscow.
Putin and Merkel will discuss bilateral relations, as well as Russia-EU ties and the situation in Ukraine during their Sunday meeting in Moscow.