The decision of most EU leaders to skip the ceremonies marking the 70th anniversary of the victory over Nazi Germany in World War II could be explained by the "destructive obedience of Brussels" to the United States, journalist Gian Micalessin wrote.
"Just to please ally Barack Obama, the true inspirer and the great puppeteer of all anti-Russian maneuvers, Europe forgets that a strategic alliance cannot ignore the continent's geographical position and its economic needs," Micalessin emphasized.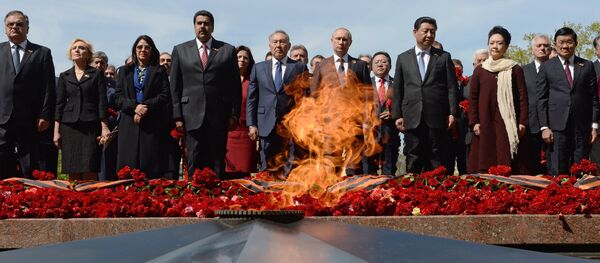 Several Western leaders decided not to attend the Victory Day parade in Moscow citing Russia's alleged involvement in the Ukrainian internal crisis. Heads of nearly 30 foreign states and governments, including Chinese leader Xi Jinping and UN Secretary-General Ban Ki-moon, participated in the celebrations.
Former Italian Prime Minister Silvio Berlusconi expressed a similar viewpoint on May 9, when he called the Western leaders' boycott of the Victory parade in Moscow a "myopia."
"What we are doing is a mistake. This tribute on the Red Square, where the leaders of China, India and other Asian states sit near Putin, is not a sign of Russia's isolation, but means the decline of the West," Berlusconi wrote in an open letter to the chief editor of the influential Italian newspaper Corriere della Sera.
Another Italian politician, leader of the Lega Nord or "Northern League" Matteo Salvini, also showed respect to the Russian leader on Saturday. He published photos with Vladimir Putin on Facebook with a comment: "I am with him."
Italian Foreign Minister Paolo Gentiloni's presence in Moscow on the Victory in Europe Day was meant to demonstrate "understanding that Vladimir Putin's Russia is a valuable economic and political partner," Micalessin concluded.