MOSCOW (Sputnik) — The EU is currently looking for a UN mandate to authorize military action to detain or destroy vessels that are part of human trafficking networks in the Mediterranean.
"The Libyan government has not been consulted by the European Union. They have left us in the dark about what their intentions are, what kind of military actions they are going to take in our territorial waters, so that is very worrying," Dabbashi told the BBC World Service's Newsday program.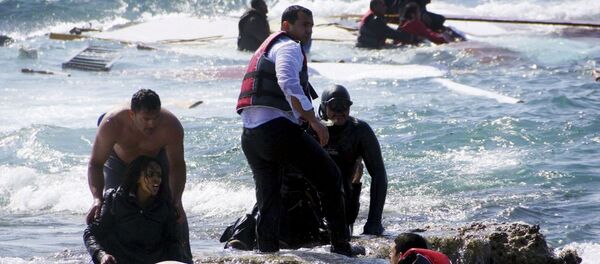 According to Dabbashi, it is not clear either how the EU maritime rescue services will distinguish fishermen's boats from traffickers' ships.
Later in the day, EU foreign policy chief Federica Mogherini is expected to address the UN Security Council to give details about the proposed resolution on the issue.
On Wednesday, the European Commission is scheduled to release the European Agenda on Migration which will include proposals on legal migration quotas and other measures to tackle the influx of undocumented migrants into the European Union.
The move comes amid a sharp increase in maritime migration to Europe from North Africa and the Middle East. The Mediterranean Sea is a key route for migrants fleeing conflicts in Syria, Eritrea, Nigeria and Somalia.