Mohamed Fahmy, before being released on bail to await trial, spent over 400 days in prison after being arrested along with colleagues Peter Greste and Baher Mohamed on charges including "aiding a terrorist organization," referring to the Muslim Brotherhood. All three denied all charges. 
Fahmy and Mohamed were originally sentenced to seven to ten years, but in January courts announced a retrial. Greste was released in February and deported to Australia, with no explanation provided by Egyptian authorities. Meanwhile, Greste's two colleagues were released on bail to await a retrial that has been repeatedly delayed. 
Fahmy's lawyer Joanna Gialason told a press conference that the lawsuit seeks $100 million in punitive and remedial damage. The suit, filed in a British Columbian court, alleges that the Qatar-based network's negligence led to Fahmy's arrest and subsequent imprisonment. 
"They don't seem to understand that they cannot continue to challenge the sovereignty of governments, put the story ahead of the safety of their employees, and assume that they will continue to get away with it," Fahmy said as he announced the lawsuit in Cairo.
"I will sue them at any cost, and I will win."
Fahmy, who was born in Egypt, later gave up his Egyptian citizenship and was naturalized in Canada. He was the acting bureau chief for Al Jazeera English in Cairo at the time of his arrest. 
President Abdel Fattah al-Sisi came to power in 2013 after toppling Islamist Mohamed Mursi, against whom massive protests had been taking place. Once in power al-Sisi, the head of the Egyptian army, cracked down on supporters of the Muslim Brotherhood. 
The Qatari government, which runs the Al Jazeera network, strongly backs the Muslim Brotherhood — now banned in Egypt — and when Morsi was ousted, relations between the two countries deteriorated. 
Fahmy's statement in the suit calls Al Jazeera's Arabic-language network "a thinly veiled mouthpiece" for the Muslim Brotherhood. Fahmy's statement — which contains accusations yet to be proved in court — also points out that several Al Jazeera employees had been arrested in the run up to his own imprisonment. 
"[T]he network knew or ought to have known that the arrest and imprisonment of Fahmy and other AJE Cairo Bureau staff was a foreseeable consequence of the network's antagonistic and unlawful practices," the statement asserts. 
In response, the company has said Fahmy should be blaming Egyptian authorities, not his employer.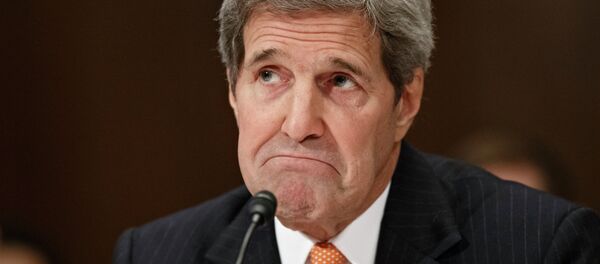 26 February 2015, 03:44 GMT
"All governments have news outlets that they don't like, but they don't use spurious grounds to put journalists in jail. If Fahmy wants to seek monetary compensation from anyone, it should be from his jailers," an Al Jazeera statement read. 
"He feels he's been a pawn in that battle," Gislason told the Canadian Press. "Because of the view of Qatar in Egypt, Fahmy himself became demonized when his content from the respected international Al Jazeera English network was being blurred and co-mingled with that [Arabic channel], which in fact had been banned."
The suit also claims that the network failed to make 'reasonable efforts' to secure his release or provide adequate legal representation, and that his ordeal caused him "severe pain, suffering, stress, anxiety, emotional distress and post-traumatic stress disorder."