Commemorating the 70th anniversary of the defeat of Nazi Germany, a Ukrainian prisoner of war recently praised the conditions of a concentration camp in Kowel, Poland, where he was taken before being sent on to Germany.
"We were taken to a wonderful concentration camp in Kowel," the Ukrainian veteran said in live broadcast of a talk show on one of the Ukrainian channels.
"We were disinfected, I listened to the radio for the first time, and saw the lights, as if I was re-born," he told the audience.
He was the only veteran of Ukrainian origin who took part in the show. The broadcast proceeded in a special way: the host named a country which fought against Nazism. For example, France, Greece, Yugoslavia, Then a national song was played in the native language and a veteran representing the country shared his memories.
The Ukrainian veteran, therefore, recalled "a wonderful concentration camp" in Kowel.
Interestingly, there were no Russian veterans on the show, as, apparently, no one was interested in their memories.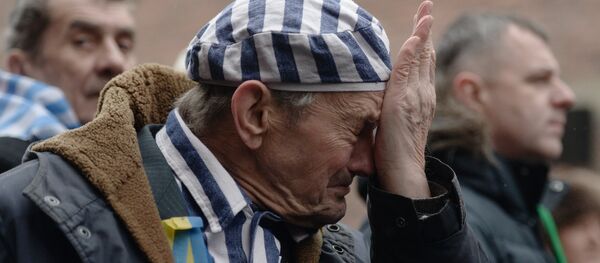 27 January 2015, 09:53 GMT
The open memoirs available on the internet, however, suggest that conditions at the Kowel camp were far from ideal.
"The Hitler soldiers have been convoying prisoners through the city streets. The citizens of Kowel have been throwing food to them. The majority of the convoy did not pay any attention to it, but some of them though were shouting and threatening [the prisoners] with their weapons and shooting into air," one of the internet users, Ella Luker, wrote, conveying the memoirs of one of her relatives.
"Later they were transferred to Brest Street, where concentration camp "Shtandk"#301 was located. Up to 150-200 servicemen and officers died there daily from exhaustion and hunger. 11,000 prisoners were gunned down there between October 1941 and 1942."
"The archive documents reveal that there were nine pits with the [gunned down] bodies of civilians and around 63 with imprisoned officers. "
"After the liberation of the camp, in pit #1, 100 meters long, 10 meters wide and 4-5 meters deep, have been recovered 8,000 naked bodies of women and children. Some had no wounds or other injuries. This proves the cases of killing with electrical current".
This is not the first case, however, where the Ukrainians praised the conditions of a concentration camp.
The father of former Ukrainian President Viktor Yushchenko also praised the "very good" coffee he had taken to while interned in a concentration camp, where thousands had died of hunger.