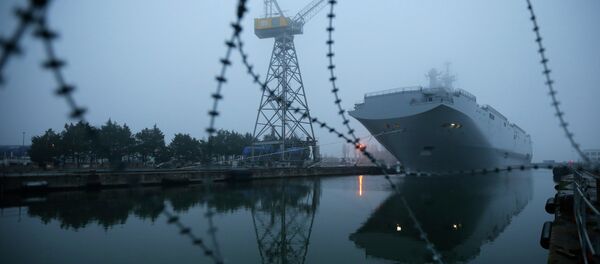 LIMA (Sputnik)
–
Paris and Moscow are holding consultations over the situation of the Mistral-class helicopter carrier ships that were not delivered to Russia and expect to reach an agreement by the end of May, a deputy director from the Russian Federal Service for Military-Technical Cooperation told RIA Novosti on Friday.
"Consultations are being held currently with France on settling the situation within the frameworks of agreements reached between the presidents of Russia and France. We're expecting results at the end of May," Anatoly Punchuk said.
He said that the negotiations process on the Mistrals are being held with mutual understanding and are showing some positive trends.
"According to our assessments, the French side is set on a mutually acceptable solution to the situation at hand," Punchuk added.
Russia and France struck a $1.5-billion deal for two Mistral-class ships in 2011. The first ship was scheduled to be handed over to Russia in November 2014, but the ceremony was postponed. French President Francois Hollande halted the delivery, citing Moscow's alleged interference in the Ukrainian crisis.
Russia has repeatedly dismissed allegations of involvement in the Ukraine conflict as groundless and criticized France for not executing its contractual obligations.
On April 22, Hollande said Paris would refund Moscow in the event of non-delivery of the warships.
Earlier on Friday, the Russian Kommersant newspaper reported that Paris has sent proposals to Moscow on terminating the contract. According to the proposals, Paris will pay back $865 million if Russia consents to authorizing the sale of the ships to a third party.