BELGRAD, May 15 (Sputnik) — According to Zaev, Gruevski is responsible for the crisis in the country.
He added that the protest would be peaceful, but continue until the government's resignation. About 70,000 people will join in the rally, he said.
"All members of our party were instructed to record on camera a potential police violence, or other facts that could lead to clashes on Sunday during the protests, to once again demonstrate the truth about the violence of the authorities."
Zaev noted that the SDSM is in talks with Albanian parties about their participation in the Sunday protest.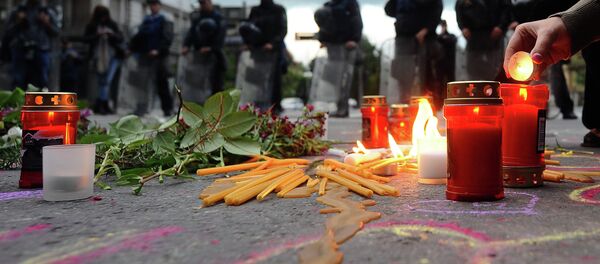 Macedonia currently undergoes a period of serious political instability.
On May 6, at least 40 people, including 38 police officers, were injured during anti-government protests in Skopje.
The violent political protests began in the capital after Zaev accused the prime minister of concealing the circumstances surrounding the death of 22-year-old Martin Neskovski in June 2011.
Neskovski was beaten to death by a bodyguard of Gruevski's at a meeting of the ruling party VMRO-DPMNE (Internal Macedonian Revolutionary Organization – Democratic Party for Macedonian National Unity), according to Zaev.
The opposition leader said he has a record of the conversation between Gruevski and Minister of Internal Affairs Gordana Jankulovska, which shows the two planned to cover up the killer's identity. Jankulovska denied the accusations and stated that the recording was a fake.