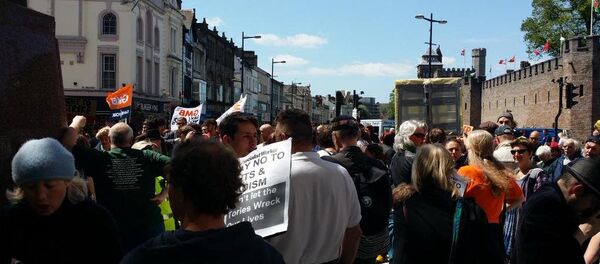 MOSCOW (Sputnik)
–
Around 1,000 people have taken to the streets of UK city of Sheffield to protest against austerity, following the victory of the Conservative Party at the country's general elections earlier this month, witnesses said on social media Saturday.
According to eyewitness reports, Green Party leader Natalie Bennett is participating in the rally.
Almost 1,500 people confirmed their attendance on the event's Facebook page. People are seen carrying placards such as "Get the Tories out" and "Fight the cuts."
Sheffield is not the only one of the cities in the United Kingdom where the anti-cuts protests are taking place. A similar protest kicked off earlier Saturday in Cardiff.
On May 7, general elections were held in the United Kingdom. The Conservative party won the vote after securing the absolute majority of the seats in the lower house of the British parliament, the House of Commons.
The key points of the Conservative platform are the reduction of welfare funding and more responsible public spending.