MOSCOW (Sputnik) — Earlier in the day, Nuland, who is currently on a visit to Moscow, held meetings with Russian deputy foreign ministers Sergei Ryabkov and Grigory Karasin.
"We will obviously stay in strong bilateral contact with our colleagues in Ukraine and now we have more direct channels on Ukraine issues also with the Russian Federation, as necessary."
The US official added that the United States would always support the leading role taken by the Normandy format participants – France and Germany – as well as the Organization for Security and Co-operation in Europe's (OSCE) efforts in the settlement of the Ukraine crisis.
"Today's consultations were very detailed, very pragmatic. In both meetings we were talking about how we build on the conversation in Sochi, on all of the issues that were discussed between President Putin and Secretary Kerry," Nuland said at a briefing.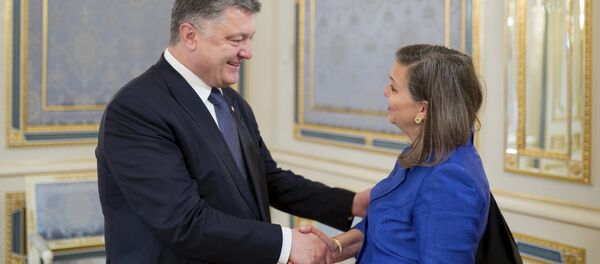 The sides discussed securing a true ceasefire on the line of contact between the warring sides in the east of Ukraine and setting the conditions "for free fair elections under the Ukrainian constitution and in correspondence with the OSCE standards" in Donbass, she said.
"The United States goal here, as I said in Kiev, is to support the full implementation of Minsk [agreements]."
The US Assistant Secretary of State pointed out that Washington expected to see progress made in all four of the working groups established by the Contact Group to oversee the implementation of the Minsk deal.
Before coming to Moscow, Nuland paid a three-day visit to Kiev, where the sides also addressed the ongoing conflict in the country.