WASHINGTON (Sputnik) — It is unlikely that a rating agency will be created within the BRICS group since any rating agency has to be independent from governments, Senior Advisor on BRICS at the World Bank Group Otaviano Canuto told Sputnik on the sidelines of the third annual "Doing Business with the BRICS" conference in Washington.
"A rating agency has to be fully independent from the standpoint of the governments. There is only some extent to which a rating agency can claim to be independent if it is sponsored by government," Canuto said, adding that the likelihood of creating such an agency by BRICS members is "very low."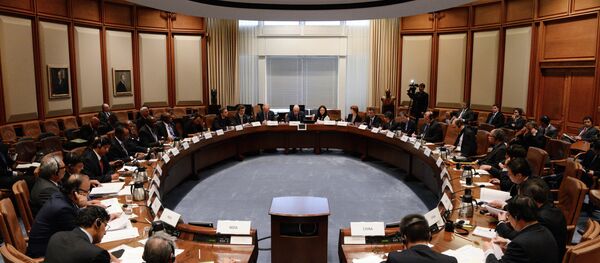 Earlier in 2015, Russian sous-sherpa for BRICS Vadim Lukov said that experts from BRICS countries were discussing the creation of a new independent rating agency to counter a culture of geopolitically-biased economic assessment by western ratings agencies.
"I do not think any idea of developing independent rating agencies have reached the level of development of the other initiatives," the World Bank advisor said.
Canuto noted, however, that it is "natural and desirable for the world" to get new rating agencies.
"Increasing number of agencies doing ratings does not mean that they have to be officially sponsored," he noted. "The ratings agencies cannot be official, because otherwise the outcome of the rating agency is seen by the investors as very much politically influenced."
After sanctions were imposed on Moscow by the West over Russia's alleged role in the internal conflict in Ukraine, the Big Three credit rating agencies — Fitch, Moody's and Standard & Poor's — downgraded their ratings regarding Russia's creditworthiness.
The Big Three have also published negative outlooks for Mercosur countries for 2015. Mercosur is a sub-regional economic bloc comprising Argentina, Brazil, Paraguay, Uruguay and Venezuela alongside associate countries Bolivia, Chile, Colombia, Ecuador and Peru.
These steps and other questionable actions have prompted criticism from numerous experts and lawmakers worldwide, who believe that the proprietary ratings by the three primary western credit rating agencies are largely based on their interpretation of geopolitics and do not reflect reality.
BRICS is an association of emerging economies that include Brazil, Russia, India, China, and South Africa.