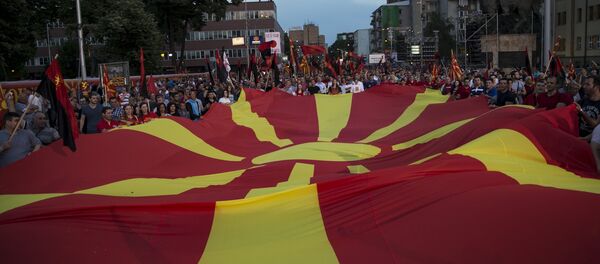 SKOPJE (Sputnik) – A rally held Monday in support of Macedonia's ruling conservative party VMRO-DPMNE gathered a record number of people for the country, local media reported.
Zoran Zaev is demanding the resignation of the current government, accusing it of corruption and deepening the economic crisis within the country. The opposition leader insists on the creation of an interim government and a general election. About 50,000 people spent Sunday night at a tent camp on Skopje's main square to support Zaev.
Caution needed in Skopje. Whatever his faults Gruevski was fairly elected. The last thing the region needs is violence in Macedonia

— James Pettifer (@JamesPettifer1) 19 мая 2015
Nikola Gruevski said he will not quit his post and accused Zaev of attempting a coup.
On Monday, Zaev, Gruevski and leaders of two Albanian parties failed to come to an agreement during talks to resolve the disagreements between the prime minister and the opposition leader.