WASHINGTON (Sputnik) — The existing sanctions imposed on Russia will be a part of the Group of Seven's (G7) discussions in Schloss Elmau, Germany on June 7-8, 2015, White House Press Secretary Josh Earnest said in a press briefing on Tuesday.
"I'm confident this will be the subject of continued conversation when the President [Barack Obama] travels to Germany for G7 meeting in the beginning of next month," Earnest said.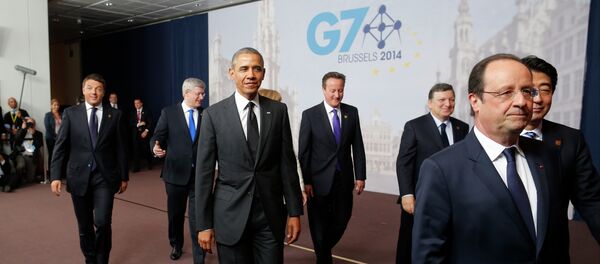 Earnest noted that the United States and its European partners are resolute about the set of sanctions imposed on Russia over the country's alleged meddling in Ukraine's internal affairs.
The White House Press Secretary argued the sanctions have exerted an economic cost on the Russian government.
However, on Monday, the US advisory firm Claret Consulting told Sputnik that the Russian economy is responding successfully to the Western economic sanctions as Russian companies continue opening up new trade opportunities.
The G7 group is comprised of Germany, France, the United Kingdom, Italy, Japan, Canada and the United States. Russia's participation in the group was suspended in March 2014 over the country's alleged involvement in the Ukrainian conflict. Moscow has repeatedly denied the allegations.