TEHRAN (Sputnik) — Earlier in the day, the ship's captain, Masoud Qazi Mir-Saeed, told Sputnik that the Iran Shahed had been en route to Djibouti to undergo an inspection of the load by the International Committee of the Red Cross (ICRC).
"The government of Djibouti did not allow us to enter for inspection," the source said.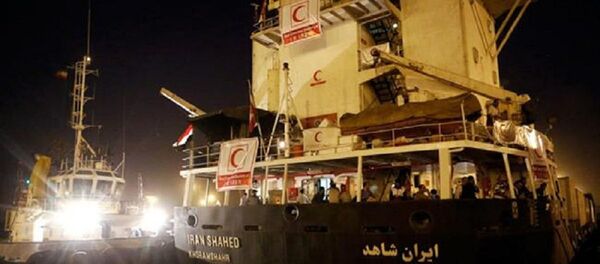 On May 12, the Iran Shahed, carrying food, medicine and basic supplies collected by the Iranian Red Crescent Society, departed from an Iranian port to the UN aid distribution center in Djibouti.
Meanwhile, the Iranian ship Nejat with aid supplies to Yemen has possibly changed its course and will first head to the regional UN hub in Djibouti, an informed source told IRNA on Wednesday. The ship will undergo necessary inspections by ICRC personnel and then will go to its initial destination in Al-Hodeidah port in Yemen, according to the source.
"We are presently waiting for permission from Djibouti to berth at the country's territorial waters," he added.
Earlier, Iran proposed to use the Djibouti port as a transit zone for delivering aid to conflict-torn Yemen; however the UN had not officially approved the initiative until Wednesday.
Iran coordinated the aid delivery to Yemen directly with the United Nations. The ship is carrying 2,500 tons of humanitarian aid including flour, rice, canned food, medical supplies and bottled water. The passengers include doctors, international anti-war activists and journalists.

The vessel entered the Gulf of Aden on May 18 and now is being escorted by the 34th fleet of the Iranian Navy in international waters.
The inspection will come one week after Iran's Foreign Ministry Spokeswoman Marziyeh Afkham stressed that Tehran will not allow any country involved in the Yemen conflict to inspect the Iranian cargo ship.
Initially, the ship was scheduled to arrive at Al-Hodeidah port on May 21 without stopping in Djibouti, in defiance of warning from Washington and a Saudi-led coalition which conduct a military offensive against Houthi rebels in Yemen.
However, the aid mission was marred by US calls on Iran to direct the ship to the UN distribution hub in Djibouti. The Unites States tracked the vessel amid concerns that it carried military cargo.