MADRID (Sputnik) – Imposing the Spanish flag on Catalan autonomous communities that voted for independence from Spain is anti-democratic, Marc Verdaguer, the mayor of a Catalan town who received a fine for not hanging a Spanish flag, told Sputnik Wednesday.
"This is an anti-democratic imposition which goes against the majority sentiment of the people who live in this or other Catalonian towns," Verdaguer said.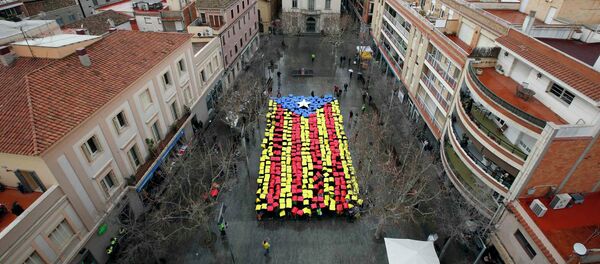 A local administrative court earlier in the week imposed a fine of 1,500 euros ($1,670) on Verdaguer, the mayor of the town of Calldetenes, for not hanging the Spanish flag outside the town hall.
All of the town's counsellors belong to parties that support Catalan independence, they therefore unanimously voted to hang a Catalan flag instead of a Spanish one.
"We are being forced to do something against which our people voted," Verdaguer said.
"The citizens of this municipality respect the Spanish flag, like they respect those of other countries, but they don't identify with it," the mayor said, adding that people stole Spanish flags when they were hung up in the past.
Catalonia held an informal independence referendum last year, despite the protests of central government. More than 80 percent of Catalans voted to break away from Spain. Madrid dismissed the vote as unconstitutional and filed complaints with the Constitutional Court.