WASHINGTON (Sputnik) — On Sunday, following days of heavy fighting against Iraqi government forces, ISIL took control of the Sunni-dominated provincial capital of Ramadi, some 70 miles west of Baghdad.
"No, I don't think we're losing," Obama said in the interview. "There's no doubt there was a tactical setback, although Ramadi had been vulnerable for a very long time."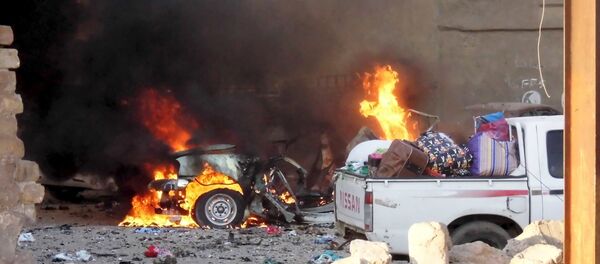 The US president attributed the fall of Ramadi to lack of Iraqi military training and command-and-control structures in Sunni areas of the country.
Hundreds of Iraqi security forces were killed and many more fled, prompting Iraqi Prime Minister Haider al-Abadi to call in Shiite militias to the outskirts of Ramadi to protect the capital and Shiite cities to the south.
The United States has urged Iraq to integrate Sunni tribes and Sunni soldiers into the fight against ISIL, but al-Abadi has been hesitant to arm and train Sunnis. More than 90 percent of the Iraqi military is composed of Shiites.
"One lesson that I think is important to draw from what happened [in Iraq War in 2003] is that if the Iraqis themselves are not willing or capable to arrive at the political accommodations necessary to govern, if they are not willing to fight for the security of their country, we cannot do that for them," Obama said.