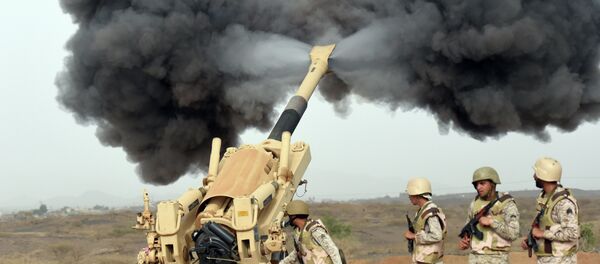 MOSCOW (Sputnik)
–
Riyadh will exercise every effort to ensure that the current crisis in Yemen ends with a national reconciliation under the leadership of the country's legitimate President, Abd Rabbuh Mansur Hadi, according to Friday remarks by the Ambassador of Saudi Arabia to Russia, Abdulrahman Al-Rassi.
"From our side we will exercise efforts to create best conditions for achieving the national reconciliation between the Yemeni brothers and the beginning of the reconstruction in Yemen under the legitimate leadership of President Abd Rabbuh Mansur Hadi," Rassi told RIA Novosti.
The Saudi Ambassador also said that Riyadh, where the current Yemeni President has resided since fleeing his country in March, highly values Moscow's efforts on the normalization of conflict in Yemen. He noted that Russia maintains continuous contact with the sides of the Yemeni conflict.
For months now Yemen has been engulfed in violence between the Houthis, the country's largest opposition faction, and forces loyal to President-in-exile Hadi.
On March 26, upon Hadi's request, a Saudi Arabia-led international coalition began airstrikes against Houthi positions in Yemen. In April, it was announced that the military operation, called Decisive Storm, was to be replaced by Operation Restoring Hope, aiming to focus on a political dialogue between conflicting sides. The Saudi-led coalition airstrikes, however, have continued.
The current death toll in the crisis has reached 1800, with over 500,000 Yemenis displaced.
The Russian Foreign Ministry has repeatedly stressed that political dialogue is the only way to solve the Yemeni conflict. Russia has evacuated hundreds of its own and foreign citizens from the crisis-hit country.