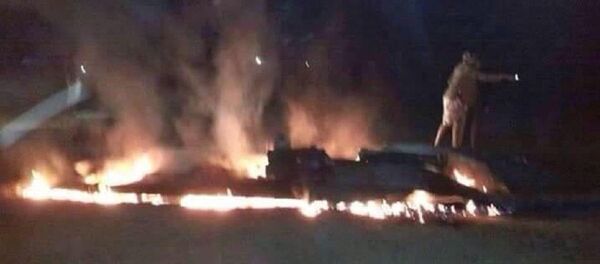 According to Veterans Today, "fresh Saudi markings were painted on the two 'Israeli' warplanes."
Analysis of the wreckage showed those planes to be of unknown origin. While they carried Saudi paint jobs, they couldn't be Saudi aircraft and in fact were Israeli aircraft flown by Arabic speaking Israeli Air Force pilots, the journal claimed.
On May 11, the Yemeni fighters shot down a Moroccan fighter jet violating the country's airspace in the Noshour Valley in the northern province of Sa'ada.
Earlier in the day, another Saudi F16 fighter jet was downed in the Bayt Khayran area of the district of Bani Harith in the north of the northwestern province of Sana'a. The fighter jet had reportedly conducted a number of airstrikes against Yemen's al-Dailami air base.
One of the two F16s was shot down by an updated BUK system supplied by Russia — Yemen is well-equipped with modern Russian weaponry including MiG-29s and advanced air-defense systems, a fact that has clearly been overlooked by the Saudis and their Israeli allies.
Photo analysis of the shot down F16 in Yemen showed it was probably one of the 50 surplus US F16 A models given to Israel during the Clinton administration or it was a recently surplus ex-NATO aircraft either from Italy or Portugal.
The only other option is that they were directly supplied from the US covertly, VT added.
With the distance between Israel and to Yemen being 1,200 miles an F16 with 3 drop tanks, 4x1000 lb. bombs and two sidewinder missiles for self-defense is do-able from Israel — the very same distance and mission configuration as needed to hit Iran, the US edition claimed in a report.