DAMASCUS (Sputnik) – On Tuesday, media reported that Fabius urged for increased support for the international US-led coalition to fight against Islamic State in Syria and Iraq.
The French top diplomat added that Syrian President Bashar Assad had lost control of his country and his government is on the verge of falling apart.
"He [Fabius] and his allies must stop the conspiracy against Syria. The people of Syria are able to repel attacks and prevent any attempts to divide the country," Moallem said in a joint press conference with his Armenian counterpart Eduard Nalbandyan.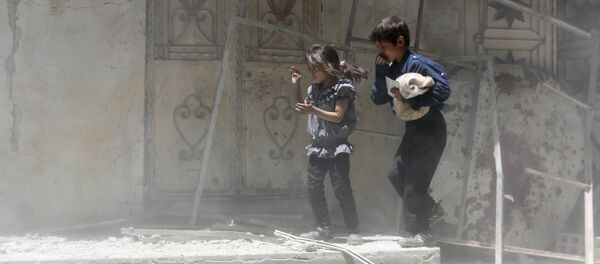 Syria has been in a civil war for four years, with government forces fighting on multiple fronts, against opposition factions and various insurgent groups, including ISIL, which took over large areas of the country in 2014.
The US-led international coalition has been carrying out airstrikes against ISIL positions in Syria without the approval of Damascus or the United Nations.
In countering ISIL insurgency, some countries have supported moderate Syrian opposition factions. In February, the United States and Turkey signed an agreement to train and equip moderate Syrian rebels opposed to Islamic State militants.