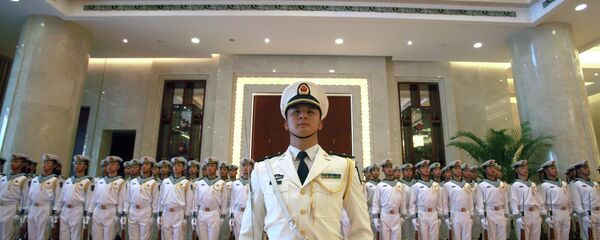 The official complaint by a Foreign Ministry spokeswoman in Beijing came after a US P-8A Poseidon reconnaissance aircraft was warned eight times by the PLA Navy for entering China's "military alert zone" on May 20.
Each time, the American pilots responded that their aircraft was flying through international airspace.
Briefing reporters in Beijing on Monday, Foreign Ministry spokeswoman Hua Chunying accused the US of "provocative behavior", adding that the government had lodged an official protest over the Americans' reconnaissance flight over the South China Sea.
"We urge the United States to correct its mistakes, remain rational and stop saying ill-judged words and making ill-conceived acts", Hua Chunying said.
"Freedom of navigation and flight by no means indicates that foreign naval ships and planes can ignore the legitimate rights of other countries, and endanger sea and air travel", she added.
China believes that the purpose of the P-8A's mission was to gather intelligence on Beijing's activities in the South China Sea and in particular information on the PLA's military deployment in the region.
The South China Sea is the subject of numerous rival territorial declarations over an area that includes fertile fishing grounds and potentially rich reserves of undersea natural resources.
In addition to China, Brunei, Malaysia, the Philippines, Taiwan and Vietnam also claim at least parts of the South China Sea.
In other parts of the world similar disputes also touch upon China's relations with Japan and South Korea.
The United States is urging the sides to seek a negotiated settlement and avoid an escalation while, at the same time, trying to cement its own strategic alliance with a number of regional powers at loggerheads with China.
Alarmed by China's efforts to build up its presence in the disputed region, Washington is prepared to retaliate.
During recent congressional hearings in Washington, David Shear  the Assistant Secretary of Defense for Asian and Pacific Security Affairs, said that the US was assessing the military consequences of China's "territorial claims" and was "preparing a response".