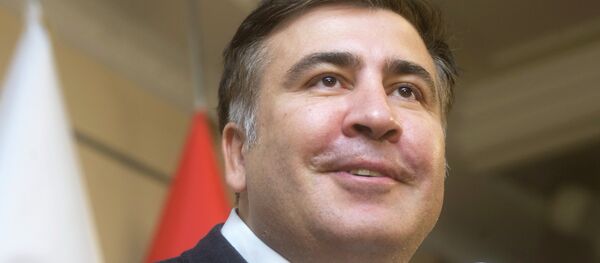 The Ukrainian president arrived in Odessa on Saturday for a working visit along with the new governor. Speaking before reporters, Poroshenko characterized Saakashvili as the "independent, decisive person who changed Tblisi," adding that among the new governor's main tasks will be the 'deoligarchization' of Ukraine. He noted that Saakashvili was "a friend since my student years. I remember him as a strong-willed and determined person, and I have every reason to trust him."
Saakashvili officially received his Ukrainian citizenship on Friday. His connection to Ukraine is not entirely tenuous; he had graduated from the Institute of International Relations of the National University of Kiev in 1992, and had briefly served with the Soviet Border Troops at Kiev's Boryspil Airport in 1989-1990. Earlier this year, Poroshenko had appointed him the chairman of Ukraine's International Council on Reforms, a group of foreign advisors ostensibly tasked with helping the country in carrying out its political and economic reforms.
Saakashvili, disgraced in his home country, was forced to flee Georgia in 2013, after the Georgian Prosecutor's Office launched a criminal case against him. The charges leveled against him include abuse of power, misappropriation of funds and over $5 million in embezzlement charges. Georgia has repeatedly asked Ukraine to extradite Saakashvili. The former president is also known for his failed invasion of the breakaway region of South Ossetia in August, 2008, which coincided with the Beijing Summer Olympics and prompted a decisive military response from Russia. The disastrous conflict prompted Russia's official recognition of South Ossetia and Abkhazia as independent states.
Saakashvili had vaguely hinted at his imminent appointment on Friday night:
"Oligarchs will not have power in Ukraine. There will be discipline! These are the tasks I have set for Mikheil Saakashvili, the new governor of the Odessa Region."
Saakashvili's appointment was an unexpected move for many among Ukraine's post-Maidan political elite. Oligarch and former Dnepropetrovsk Region governor Ihor Kolomoisky, known for a series of vicious political scuffles with the Ukrainian president, stated that he was "surprised" about the appointment, scornfully adding that he believes Saakashvili will be a "temporary figure. He will hand Odessa over to the Russians, and then we will have to fight to win it back."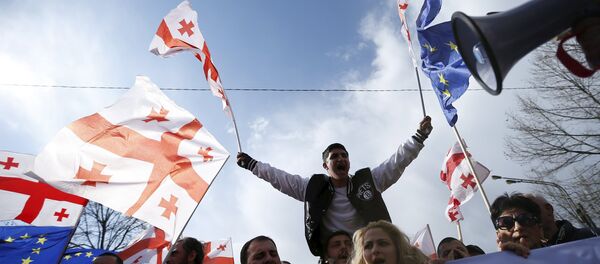 The previous governor of Odessa, Ihor Palitsa, is widely considered to have been Kolomoisky's front man, with analysts concluding that Saakashvili's appointment is part of his continuing scuffle for power with local elites.
Radical Party head Oleh Lyashko was also quick to comment on the appointment, saying the decision to appoint a foreigner to the post is a "humiliation of the Ukrainian nation, recognizing before the whole world that Ukrainians are not capable of establishing order in their own country." 
Opposition Bloc MP Nikolai Sorik, himself a former governor of Odessa, noted that Saakashvili's appointment will only serve to create more of a rift in Ukraine's already heavily divided polity. "It's very odd that among the over 40 million people in Ukraine, no one better could be found for such an important post in such a strategically important region than a man who in his homeland of Georgia is wanted for a series of crimes. The appointment is also strange for the fact that Saakashvili's associates have been working in the Ukrainian government for quite some time already, but have not yet been able to show any results for their efforts. This appointment will not work toward consolidating the political environment, and on the contrary will only work to create an even bigger rift."
Petro Poroshenko Bloc MP Serhiy Leshchenko welcomed Saakashvili's appointment:
Former Georgian President #Saakashvili successfully got Ukrainian citizenship on Friday. Micho, we want new Batumi there!

— Leshchenko (@Leshchenkos) 29 мая 2015
Fatherland Party MP Ivan Krulko also commented in favor of Saakashvili's appointment, but noted that he will only serve as governor until the fall:
"Saakashvili's appointment in Odessa will last until the fall. After that there will be a sequel.:) We need changes. Good luck to the new Ukrainian citizen."
Polish political scientist and Ukraine watcher Slawomir Debski criticized the appointment, noting that:
or if you are a close friend of @poroshenko, regardless of your nationality, you can take every job in #Ukraine you want.

— Sławomir Dębski (@SlawomirDebski) 30 мая 2015
Russian political analyst Sergei Markov also slammed Saakashvili's appointment, but for entirely different reasons than Poroshenko's political opponents at home. Vividly stating that that Saakashvili will serve as "a henchman of the occupation regime," Markov noted that the disgraced Georgian politician "has been appointed to destroy the Russian character of Odessa and to blockade Transnistria. This is a humiliation for Odessa, a slap in the face to all Odessans, and a demonstration of the Kiev junta's madness."
Other regional experts and commentators have stepped out in the same vein. Komsomolskaya Pravda's analysis on the appointment explained that "Saakashvili is not afraid of blood [and]…will do whatever he is told, whether it's privatization, the landing of NATO or American forces from the sea or the renewal of hostilities in Transnistria. Saakashvili is a Russophobe to the core, having faced a crushing defeat from Russia [in 2008] and dreaming of revenge ever since….For a triumphant return he needs a victory, if not against Russia, then against a part of the Russian civilization, and Transnistria may be a perfect variant for doing so."
Odessa borders the self-proclaimed republic of Transnistria, a breakaway state which broke off from Moldova during the collapse of the Soviet Union, its Ukrainian and Russian majority fearing Moldova's absorption by Romania. The unrecognized republic has been a frozen conflict since 1992, when Russian peacekeepers enforced a ceasefire following Chisinau's unsuccessful attempt to reabsorb the breakaway region by force.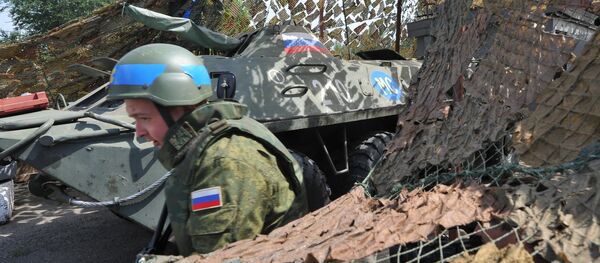 Earlier this month, Ukraine scrapped a number of military cooperation agreements with Russia, including transit rights for Russian peacekeepers and equipment to Transnistria. Transnistrian authorities commenting on Kiev's decision noted that the move, which effectively blockades Russian peacekeeping forces in the frozen conflict zone, has the potential to destabilize regional security, eroding Kiev's status as a guarantor of the Transnistrian peace process.

Also earlier this month, embattled pro-EU Moldovan Prime Minister Chiril Gaburici had invited Saakashvili to come to Moldova to help carry out a showcase anti-corruption campaign in the country following mass protests over the pilfering of nearly a billion dollars in government-backed bank assets from state coffers earlier this year.