MOSCOW (Sputnik) – Paris and Berlin now suspect Kiev of not willing to abide by the Minsk agreements, Pushkov told the Izvestia newspaper, stressing that "as a result, the authority of the Kiev regime in the West has dropped significantly."
"In EU countries there was a noticeable shift in relation to the Kiev regime this year – sympathy for it has waned," Pushkov said, explaining that one of the reasons behind the change was Ukrainian President Petro Poroshenko's failure to follow through on his promises to establish peace in the southeast.
The conflict in Ukraine's southeastern regions of Donetsk and Luhansk started in April, 2014, when Kiev launched a military operation against local independence supporters who refused to recognize the new coup-installed government.
"Although the EU does not officially recognize it, they know very well that the massive casualties among the civilian population in Ukraine's east are predominantly the result of shelling and military action on the part of the Ukrainian Armed Forces."
© AP Photo / Mstyslav Chernov
Fighters of the Azov Battalion observe enemy lines from the roof of their base in the town of Shyrokyne, eastern Ukraine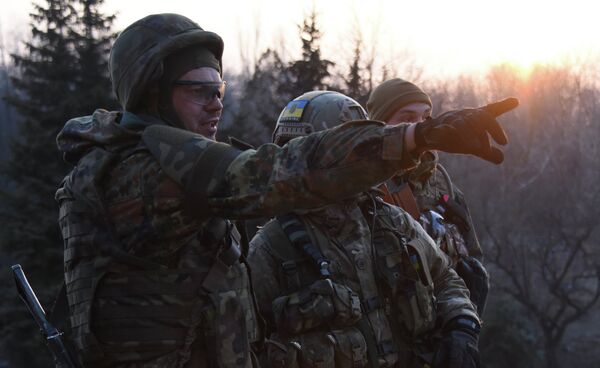 Fighters of the Azov Battalion observe enemy lines from the roof of their base in the town of Shyrokyne, eastern Ukraine
© AP Photo / Mstyslav Chernov
Kiev and representatives of the self-proclaimed people's republics of Donetsk and Luhansk (DPR and LPR) signed a ceasefire agreement in February, after talks between the leaders of Russia, Germany, France and Ukraine in the Belarusian capital, Minsk.
Despite the Minsk truce, sporadic fighting has continued in Ukraine's southeast. A similar situation occurred last year, when the first ceasefire agreed by Ukraine's conflicting sides in Minsk in September failed to hold.
NATO Membership Doomed
The volatile situation in Ukraine's southeast, as well as corruption prevailing in the country's ruling circles and the emerging ultra-nationalist trends, have all raised concerns in the West, Pushkov said. As a result, no chances remain for Ukraine joining NATO.
"Today, even in comparison to 2008 when [Ukraine's former president Viktor] Yushchenko made the first attempt to join NATO with support of the Bush administration, Ukraine does not just look unconvincing as a potential candidate – it looks horrible. It is clear to everyone in the alliance that Ukraine is incapable of giving it anything besides new problems."
The United States is particularly not supporting Ukraine joining NATO as that would increase the threat of a direct military confrontation with Russia, Pushkov added, saying that the issue could also lead to a rift within the bloc, which would not be to the advantage of dominating US influence within NATO.
Poroshenko signed a decree to approve Ukraine's new national security strategy, which mentions Kiev's plans to join NATO, last month. NATO officials have since stressed that Kiev is not ready to join the alliance because the crisis in the southeast has not been settled and Ukrainian authorities have not implemented reforms in many areas.