MOSCOW (Sputnik) — Enrique Sanz, Secretary General of the Confederation of North, Central America and Caribbean Association Football (CONCACAF) was provisionally suspended by FIFA on Monday, a statement by football's governing body said.
Sanz was banned from any football-related activities four days after CONCACAF President Jeffrey Webb, as well as ten other individuals, were also dismissed.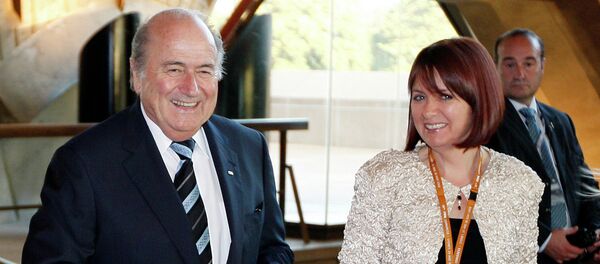 Unlike Webb, Sanz was not among the 14 world football figures, whom the US Justice Department indicted, last week, on charges of money laundering, wire fraud and racketeering.
Last Wednesday, seven of the 14 suspects were arrested in Switzerland on US anti-corruption warrants ahead of Friday's vote to elect FIFA's new president, which was eventually won by incumbent Joseph Blatter.
Blatter, who was reelected for his fifth term in office, is not one of the defendants but has faced a chorus of calls to resign, mainly from European politicians and football officials.
Swiss authorities launched a separate investigation into the bidding process for the 2018 and 2022 FIFA World Cups, to be held in Russia and Qatar respectively.