MOSCOW (Sputnik) — Slovakian Prime Minister Robert Fico, Russian President Vladimir Putin and Prime Minister Dmitry Medvedev will discuss bilateral cooperation in the spheres of economy, energy and science at a Tuesday meeting in Moscow, Russian government press office said.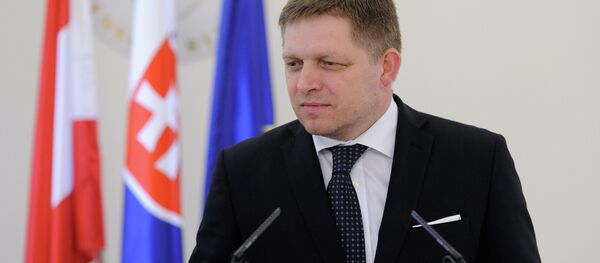 According to the statement by the government press office, Fico will have meetings with Russian President, Prime Minister and speaker of the lower house of the Russian parliament, Sergei Naryshkin. The sides are expected to discuss bilateral cooperation in economy, investments, energy, science, culture and other spheres.
"More than ten intergovernmental, interministerial and corporate documents are expected to be signed during Fico's visit," the press service said.
The sides are also highly likely to discuss the issue of the anti-Russia sanctions imposed by the European Union over Moscow's alleged role in the escalation of the Ukrainian crisis. Fico repeatedly criticized the Western economic restrictions against Russia, referring to them as senseless and harmful for Western economies, including Slovakia.
According to the statement, Slovakia is currently among Russia's 20 major trade partners. In 2014, the trade turnover between the two countries totalled $8 billion with Russia exporting to Slovakia raw materials and machinery and importing medicines and ground transport.