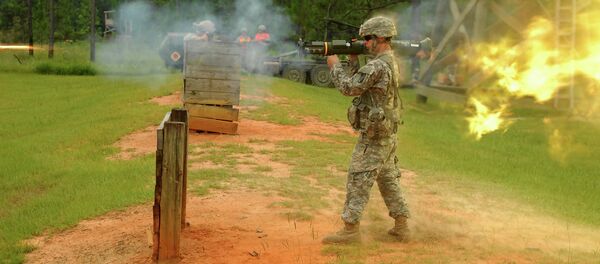 WASHINGTON (Sputnik)
–
Washington will deliver the first tranche of anti-tank missiles to Iraq this week to help the country fight against the Islamic State (IS), US Secretary of State John Kerry announced during his phone participation at the counter-IS meeting in Paris on Tuesday.
"One immediate step we are taking is to ship anti-tank rockets for use against the kind of suicide vehicles deployed in Ramadi. The first tranche of those rockets will arrive as early as this week," Kerry said.
US Deputy Special Presidential Envoy Brett McGurk announced on Monday that the United States has agreed to provide Iraq with 2,000 anti-tank missiles. The decision comes after the IS advanced and captured key towns in Iraq, including Ramadi, and in Syria.
"What happened in Ramadi was a setback. But it is one that we can help the Iraqis overcome," Kerry stated.
On May 17, the IS took control of the Sunni-dominated provincial capital of Ramadi, some 70 miles west of Baghdad. Hundreds of Iraqi security forces were killed in the battle and many more fled the city, leaving significant amount of their weapons behind, including Humvee vehicles.
The IS advances prompted President Barack Obama to reaffirm the US commitment to Iraq at a meeting of the National Security Council two days later.
Moreover, the Iraqi Council of Ministers agreed to accelerate the training and equipping of local tribes and police, expand Iraqi army recruitment and develop a plan to take back Ramadi, according to the White House.
The terrorist group's positions in Iraq and Syria have been targeted by a US-led coalition, which has been conducting airstrikes against the Islamic State since the summer of 2014.