Right Sector extremists tore down a monument to Vladimir Lenin in the town of Slavyansk in the Donetsk Region on Wednesday, the Ukrainian Interior Minister wrote on his Facebook page.
"In Slavyansk early in the morning the Right sector dismantled a monument to lenin. Very cultural. Give culture to the masses!;)", Arsen Avakov's post said.
The Euromaidan disorders and the power shift in Kiev in 2014 galvanized nationalist groups into vandalizing the monuments of the past.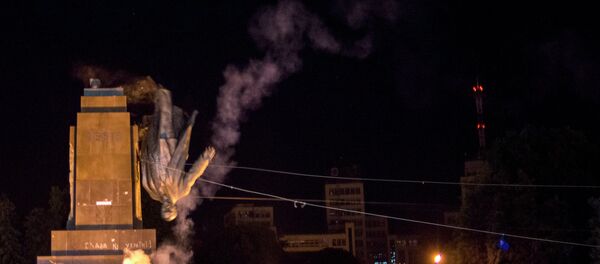 On May 15, Ukrainian President Petro Poroshenko inked four laws that
outlawed any symbols of communism
and recognized Nazi collaborators such as the Ukrainian Insurgent Army (UPA) as fighters for independence. 
The legislation, that in practice legalized vandalism, stipulates that all towns, villages, streets etc. with Soviet names must be renamed and all monuments to Soviet figures must be dismantled within six months.
According to the leninstatues.ru tracker, vandals have demolished 704 monuments to the Soviet State founder since December 8, 2013. Less than 1,400 Lenin statues remain in Ukraine now.
The monument was relocated to the outskirts of Slavyansk.