UNITED NATIONS (Sputnik) – Russia has asked the special representative of UN Secretary General Ban Ki-moon to hold an urgent round of Yemen peace talks as the Muslims' Ramadan fasting is approaching.
"We called on the special representative of the Secretary General to try to convene the meeting as soon as possible. One of the concerns is that Ramadan is coming. We expressed the hope that it might be possible to continue those discussions in the course of Ramadan," Russian Permanent Representative to the United Nations Vitaly Churkin told reporters on Wednesday.
Ramadan starts on June 18 this year and will end on July 17.
Yemen has been in turmoil since January, when Shiite Houthi rebels, the country's main opposition force, seized the capital Sanaa and forced the government to resign.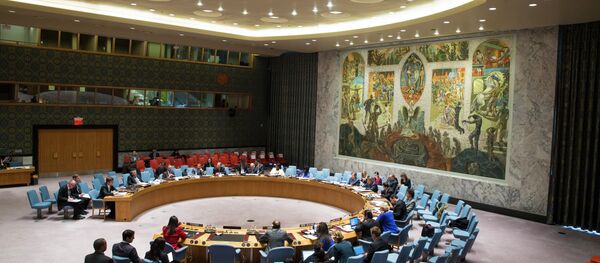 Speaking outside the UN Security Council's Wednesday closed door meeting on Yemen, Churkin expressed hope that both the UN Secretary General and UN Emergency Relief Coordinator Stephen O'Brien, who gave a briefing about the humanitarian situation in the country during the meeting, will do everything possible to protect the civilian population amid ongoing hostilities.
"The humanitarian pause should come as quickly as possible," Russia's UN envoy said, stressing that the "humanitarian consequences" of the ongoing conflict in Yemen "are very high" as both the civilian population and the cultural and historical monuments have been dramatically affected by the fight against Houthis.
An international coalition led by Saudi Arabia has been carrying out airstrikes against the rebels following a request for help from President Abd Rabbuh Mansur Hadi, while forces loyal to Hadi have been fighting against Houthis on the ground.
"Unfortunately it seems that the coalition is being carried away by the bombing too much. One of the points we were making was that paragraph 8 of resolution 2216 called on all parties to adhere to international humanitarian law, and we were wondering if these was the case, given the destruction of civilian targets in Yemen," Churkin said on Wednesday, adding that "the effect of the bombing campaign is quite dramatic."
The coalition started its Operation Decisive Storm in March. In April, the airstrike campaign was replaced by Operation Restoring Hope, with the coalition saying it was halting military action in Yemen. However, coalition airstrikes have since continued in the country.
The World Health Organization estimates that up to 2,000 have died and over 8,000 have been wounded after the spring surge of violence in Yemen.