MOSCOW (Sputnik) – Thousands of people have been evacuated on Indonesia's Sumatra Island as the alert level over the eruption of the Sinabung volcano was raised to the highest level four, Indonesia's Jakarta Post reports.
"Until this afternoon the evacuation is still going on," Commander of the Mount Sinabung Disaster Mitigation Agency task force, Lt. Col. Asep Sukarna told the newspaper on Wednesday, adding that the pile of lava at the peak of Sunabung's crater amounts to three million cubic meters and could slide down covering an area within a seven-kilometre (4-mile) radius around the volcano.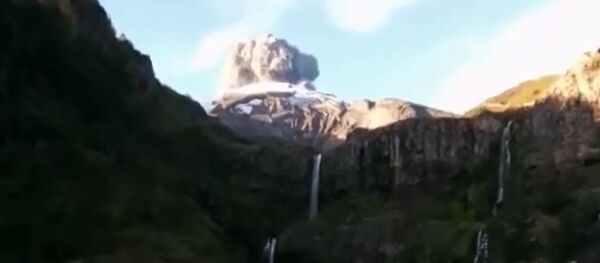 According to Asep, people living within a radius of seven kilometres from the crater were taken to a temporary evacuation center at the Parish Catholic Church in Kabanjahe, the capital of the Karo Regency located in the North Sumatra province.
At least 1,500 residents had been evacuated from the area as of Thursday morning, according to Jakarta Post.
The volcano on the 8,070 feet-high Mount Sinabung, located near the capital of the North Sumatra province woke up on September 15, 2013, after a three-year-long break.
In February 2014 16 people died during one of its eruptions.
In February 2015 lava flows from Sinabung burnt several houses abandoned by their residents.
Indonesia is located in the so-called Ring of Fire quake zone, where a large number of earthquakes and volcanic eruptions occur.