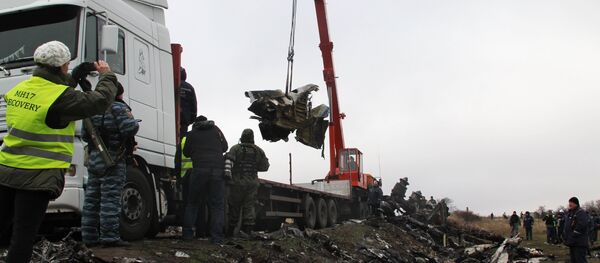 The US government will not unveil any additional data concerning last year's crash of Malaysia Airlines flight MH17 in eastern Ukraine, Mary Harf, spokeswoman for the US State Department, said during a briefing on Wednesday.
"We've given information to the investigators if we thought it was relevant," Harf said. "At the time, I remember us actually putting out maps. And those maps included where we believed, where we had evidence that this missile was fired from."
"Our assessment of what happened has not changed," she added.
Earlier on Wednesday, the Russian Foreign Ministry called on Washington to make public data from satellites in the area of the crash.
Malaysia Airlines flight MH17 came down near Donetsk in eastern Ukraine on July 17, 2014, en route from Amsterdam to Kuala Lumpur. All 298 people on board were killed. The US has repeatedly blamed Russian and Donbass independence supporters for the crash.