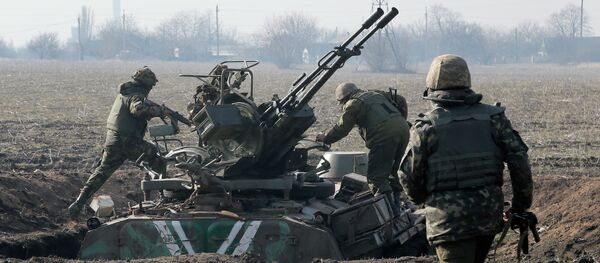 UNITED NATIONS (Sputnik) — New clashes erupted in eastern Ukraine on Wednesday after Kiev troops launched an offensive against local independence supporters along the separation line in Donbass, according to DPR Defense Minister Vladimir Kononov.
The fighting centered in the town of Marinka near Donetsk and left at least 21 dead and over 120 injured.
"At the request of the Lithuanian mission, a Security Council meeting on Ukraine will be held on Friday. Representatives of OSCE's Special Monitoring Mission and UN Under-Secretary-General for Political Affairs Jeffrey Feltman will hold briefings," the spokesperson told RIA Novosti.
Earlier on Thursday, the Special Monitoring Mission (SMM) of the OSCE said in a report that it had observed the movement of heavy weapons in southeastern Ukraine.
On Wednesday, the Ukrainian General Staff admitted using heavy artillery prohibited by the Minsk agreements.