WASHINGTON (Sputnik) — Forces from 17 NATO and non-member partner countries will carry out joint maritime exercises in the Baltic region over the next two weeks, the US Navy said in a statement on Thursday.
"Seventeen NATO and partner nations will participate in the 43rd iteration of the multinational maritime exercise BALTOPS 2015 in Poland, Sweden, Germany, and throughout the Baltic Sea, June 5-20," the US Navy said.
The annual maritime exercise will include some 5,600 ground, naval and air forces, including 49 ships, 61 aircraft, a submarine and a landing force of 700 troops, according to the statement.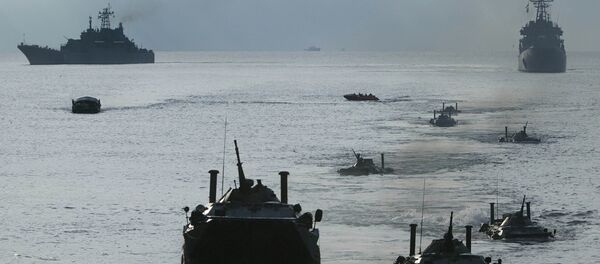 The two-week exercises will carry out air defense, maritime interdiction, anti-submarine warfare and amphibious operations to increase interoperability and show NATO's resolve to defend the region, the US Navy said.
In late May, NATO Secretary General Jens Stoltenberg said the alliance is increasing military exercises in Europe as part of a response to alleged Russian actions in Ukraine.
Russia has organized similar military exercises over the past months in the Baltics, Black Sea and Arctic region to show resolve against NATO's encroachment on its borders.