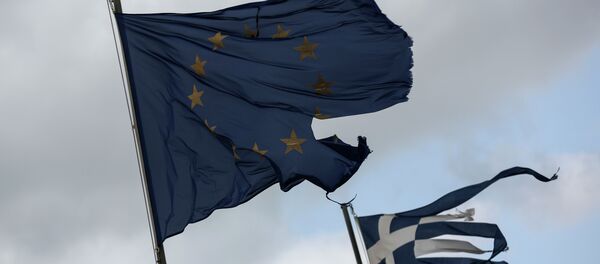 MOSCOW (Sputnik) – Syriza came to power in Greece in January with a pledge to end years-long austerity obligations imposed upon Athens by international creditors as part of the country's bailout terms. The new Greek government promised to carry out reforms to tackle corruption, tax evasion and improve the efficiency of the public sector.
"The constant concessions required by the government mean that Syriza is in danger of losing political support and thus its ability to carry out a reform programme that will bring Greece out of the crisis," 26 economists, including former Italian Prime Minister Massimo D'Alema and Nobel prize winner Joseph Stiglitz, said in the joint letter in the Financial Times newspaper.
The letter called on Greece's creditors to reach a revised, longer-term agreement with Athens to avoid the country's default that will impose great risks on the world's economies.
"Syriza is the only hope for legitimacy in Greece. Failure to reach a compromise would undermine democracy in and result in much more radical and dysfunctional challenges, fundamentally hostile to the EU," the economists added.
Greece was one of the hardest-hit countries following the 2008 financial crisis. The country's outstanding national debt is estimated at some $350 billion.