MOSCOW (Sputnik) – Only a mad person experiencing nightmares could picture the possibility of a war between Russia and NATO, Russian President Vladimir Putin said.
"I would like to say that it is not that we feel deceived or treated unfairly. This is not the point. The point is that relationships should be built on a long term basis not in the atmosphere of confrontation, but in the spirit of cooperation," Putin said in an interview with Italian newspaper Il Corriere della Sera ahead of his visit to Milan.
"As for some countries' concerns about Russia's possible aggressive actions, I think that only an insane person and only in a dream can imagine that Russia would suddenly attack NATO."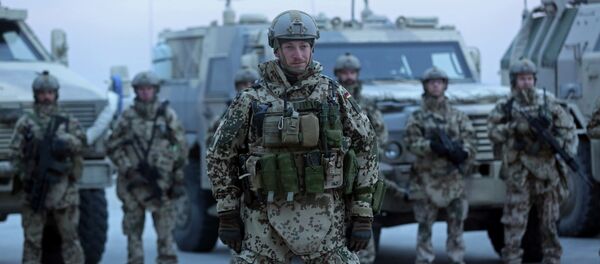 NATO has been strengthening its military presence along Russian borders since Crimea reunited with Russia and the conflict in southeastern Ukraine escalated. The bloc accuses Moscow of being involved in the fighting between Kiev forces and independence supporters in the Donetsk and Lugansk regions, something that Russia has repeatedly denied.
"Everything we do is just a response to the threats emerging against us," the Russian president stressed, adding that "what we do is limited in scope and scale, which are, however, sufficient to ensure Russia's security. Or did someone expect Russia to disarm unilaterally?"
Russia has repeatedly expressed concerns over NATO's military buildup along its borders. According to Russian Foreign Minister Sergei Lavrov, the "Cold War mindset" still prevails in the bloc, which ceased what it refers to as "practical cooperation" with Russia in April 2014, when the armed confrontation in Ukraine's southeast began.