MOSCOW (Sputnik) — A rocket launched from the Palestinian Territory of Gaza has hit the nearby coastal city of Ashkelon, the Israel Defense Forces said on Saturday.
Breaking: rocket fired from Gaza triggered siren alerts in Ashkelon (118K pop.) and the surrounding area this evening. No injuries reported.

— IDF (@IDFSpokesperson) June 6, 2015
No injuries were reported in the attack on the city with an estimated population of 118,000, the IDF added.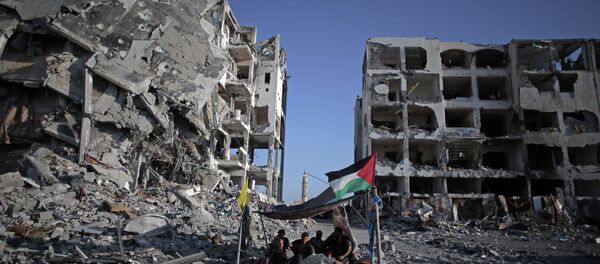 At least two rockets were fired at southern Israel from the Gaza Strip in a previous incident on Wednesday, for which a new radical Islamist group claimed responsibility. The so-called Omar Brigade said it launched the rockets in retaliation to the killing of an ISIL loyalist by Hamas, a de-facto authority in Gaza, a day earlier.
IDF launched a response attack on Thursday, saying it considered Hamas responsible for the activities on the Gaza Strip, even if they are carried out by independent gangs.
Similar rocket exchanges in the strip took place last Tuesday, May 26.
Local media say the Omar Brigade also claimed responsibility for Saturday's rocket launch.
Israel is in a state of ceasefire with Gaza militant groups, including Islamic Jihad and Hamas, after last summer's 50-day military campaign in the strip that had been carried out as a reaction to rocket fire from Palestinian territory.