White concealed-carry activists were walking around with assault rifles slung around their backs. When police approached them, one of the activists yelled at the police for approaching them, one of them having his gun drawn.
Open Carry Texas, a gun-rights group, posted the video on YouTube.
The man behind the camera is the organization's president CJ Grisham. It begins on June 3, 2015, when he notices two Abilene police officers near the street corner where he stands with two colleagues who each have an assault rifle strapped to their backs.
"Whoa, whoa, whoa! What are y'all doing? Grisham shouts toward the officers. What are you doing, man?" "What the hell? We're not breaking any laws … He's over there with an AR-15 in his hand! He's telling me to drop my guns right now."
The two officers then make their way toward Grisham.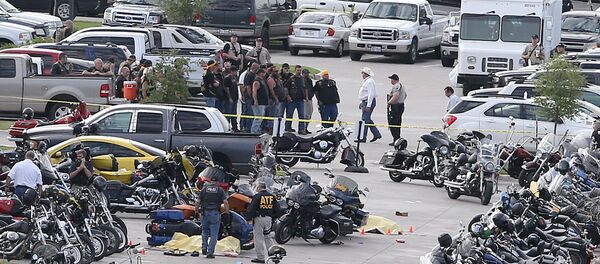 "Look at him," Grisham yells. "He's at the ready. He's got his hands on the pistol clip and everything. I got my gun behind me and you guys are coming over here with your hands on your rifles like I'm a threat."
Grisham then tells the officers that he and his friends are within their rights to stand on public property with high-powered weapons. The officers then tell Grisham that he and the other two men are actually standing on private property and therefore trespassing.
As the situation escalates, however, Grisham leaves.
Before getting inside his car he shouts, "You guys wanna come up on us like we're some sorta terrorists, then I'm gonna respond in kind."
Open Carry Texas said it reached out to Abilene senior leadership and the department later apologized and promised retraining so its officers could avoid similar incidents.
However, some have taken to criticizing the activists, saying they provoked a response by walking around with loaded assault rifles.
Others have wondered if the fact that the activists were allowed to leave showed racial disparity since they are white. 
An earlier video of an experiment in which one black man and one white man walked on the same streets with assault rifles demonstrated those discrepancies in action.
The group said it does not intend the video to serve "as an attack on the department." Instead, Open Carry Texas describes the video as "A training opportunity for law enforcement around the state on what NOT to do when encountering law abiding citizens exercising their right to keep and bear arms. Aggression only leads to needless escalation. We encourage officers to approach armed citizens with caution, but with courtesy. These types of encounters only serve to create division and distrust between the citizenry and police if allowed to continue." 
Following the incident, Grisham spoke with local news outlet KTAB.
"An armed society is a polite society," Grisham said to KTAP reporters. "Guns are not designed to kill. They're not designed to shoot up movie theaters and schools. We're trying to show what law abiding citizens look like that carry firearms and really remove that stigma."