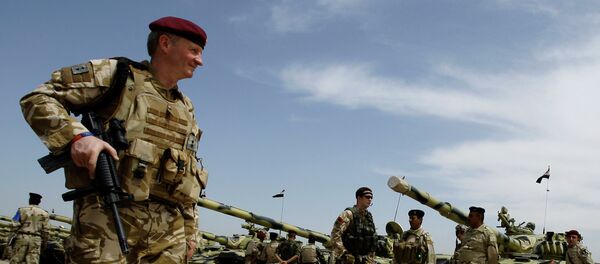 4 February 2015, 16:59 GMT
MOSCOW (Sputnik)
–
The meeting of the leaders of G7 states, comprising Canada, France, Germany, Italy, Japan, the United Kingdom and the United States, is underway in Bavaria's Schloss Elmau hotel.
According to the BBC, Cameron has named ISIL military activities the "biggest threat" the G7 leaders had to focus on, adding that most trainers will be involved in instructing Iraqi soldiers how to deal with explosives.
According to British media, the 125 military experts will bring the total number of UK personnel supporting the Iraqi government in its fight against ISIL to 275 trainers.
Cameron's announcement comes ahead of a meeting with Iraqi Prime Minister, Haider al-Abadi, who was invited to participate in the second day of G7 summit on June 8 to discuss ISIL advances in his country.
Islamic State is a Sunni jihadist group, notorious for brutal unlawful executions and many human rights atrocities, that is currently in control of vast territories in Iraq and Syria.
In September 2014, the United Kingdom joined the US-led coalition, which has been conducting airstrikes on ISIL positions in Iraq since August 2014.