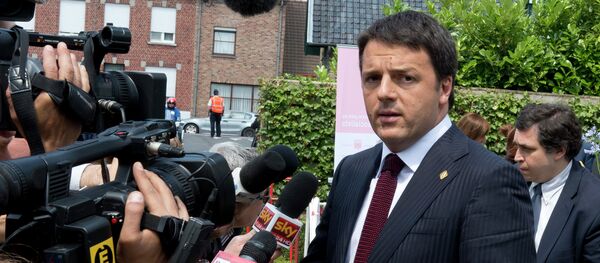 MOSCOW (Sputnik)
–
Putin's meeting with the Italian prime minister will take place following the recent G7 summit, where the the US, Japanese, Canadian and four EU leaders, including Renzi, discussed prolongation of anti-Russia sanctions imposed over Ukraine conflict in 2014.
The seven world leaders agreed that sanctions against Russia will remain in place until the peace process in Ukraine is fully implemented.
In addition to the high-level talks, Putin and Renzi will participate in the opening ceremony of Russia's national day at the World Universal Exhibition "EXPO —2015." The main theme of the exhibition is "Nutrition for the Planet. Energy for life."
After visiting Milan, the Russian leader will travel to Rome, where he is expected to meet with Italian President Sergio Mattarella, and to the Vatican, to meet with Pope Francis.
According to the Kremlin official, Italy ranks fourth in the world after China, the Netherlands and Germany in terms of trade with Russia.
Ushakov noted, however, that trade turnover between the two nations has been declining, due to anti-Russia sanctions policy of the European Union.
Western leaders imposed several rounds of sanctions against Russia in 2014 over its alleged involvement in eastern Ukrainian conflict, which Moscow has firmly denied.
The EU leaders are expected to discuss the prolongation of restrictions, which expire in July, during the upcoming EU summit in Brussels, scheduled for June 25-26.