MOSCOW (Sputnik) – On Monday, DPR and LPR proposed an amendment to the Ukrainian constitution that would guarantee that the current heads of the republics will not be removed from their positions by Kiev authorities after local elections, scheduled for the end of October under the Ukrainian law.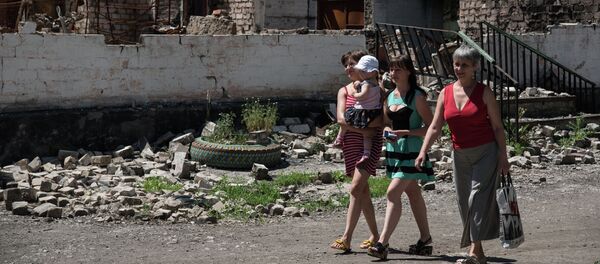 "We have already had the bitter experience when a protraction of political solutions led to a new swirl of military confrontation…that's why we are intensifying these processes and are offering our vision," DPR representative Denis Pushilin told the Rossiya-24 TV channel on Wednesday adding that the proposals concern both regional elections and constitutional reforms in Ukraine.
"Everything that has to do with elections has to be agreed with us, with representatives of Donetsk and Lugansk," Pushilin stressed on Wednesday, adding that the people's republics have already submitted their draft of constitutional changes on the granting of special status to Donbass.
Introducing amendments to the Ukrainian constitution to grant the breakaway eastern Ukrainian regions more autonomy is one of the points of the Minsk peace agreement signed between Kiev and DPR and LPR in February after talks between the heads of Russia, Ukraine, France and Germany.
Speaking about the republics' autonomy, Pushilin said that neither of the sides in Ukraine's conflict favor the terminology. The DPR negotiator stressed, however, that Donbass is not ready to be "under Kiev's rule," which would be "akin to suicide" for Donetsk and Lugansk that were subject to Kiev's special military operation in April 2014 in response to local residents' refusal to recognize the new coup-installed government.
"But contractual relations within the framework of international processes are possible and are not excluded."
DPR and LPR efforts to establish political dialogue with Kiev come amid an escalation of fighting in Ukraine's southeast, where a ceasefire has been in force since the February Minsk truce was agreed upon.
On June 3, new clashes erupted in Donbass after Kiev troops launched an offensive against independence supporters near the town of Marinka just outside the city of Donetsk. Kiev forces claimed that the shelling was a response to DPR advances.