ROME (Sputnik) – Putin told Italian President Sergio Mattarella that his busy day was "very interesting and productive."
"We worked well with the head of the government, the meeting with the pontiff was good."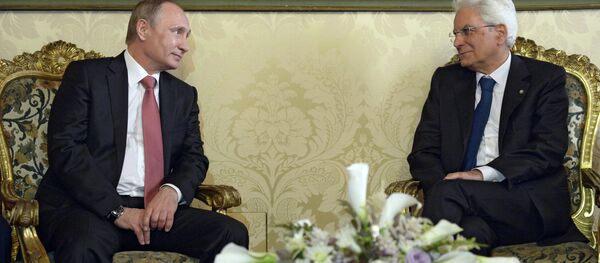 Putin and Renzi discussed the issue of anti-Russian sanctions imposed by the West during their talks. According to the Russian president, Italian companies lost over $1 billion due to sanctions. Russia and Italy also called for the full implementation of the Minsk agreements on Ukrainian reconciliation, and affirmed their commitment to a peaceful solution to the conflict.
The Pope presented Putin with a medal depicting an angel of peace and solidarity during the meeting, while the Russian president gifted the pontiff a panel depicting an image of Christ.
After the meeting with the Pope, Putin met briefly with Mattarella. The two presidents shook hands and took photographs in front of the flags of the two countries.