WASHINGTON (Sputnik) — In April, the European Parliament passed a law allowing EU members to independently prohibit GMO's, a move US officials said could create obstacles to finalizing the TTIP.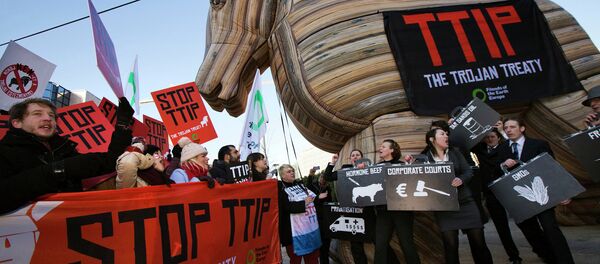 "[US] Farm lobbies will oppose TTIP unless the EU relents, at least to some extent, on GMOs and hormones," Hufbauer, who is also a Senior Fellow for the Peterson Institute for International Economics, said on Wednesday.
Hufbauer said that individual US states will oppose provisions that require them to open state and city government procurement to European firms.
© AP Photo
Demonstrators hold a sign against the TTIP contract during a protest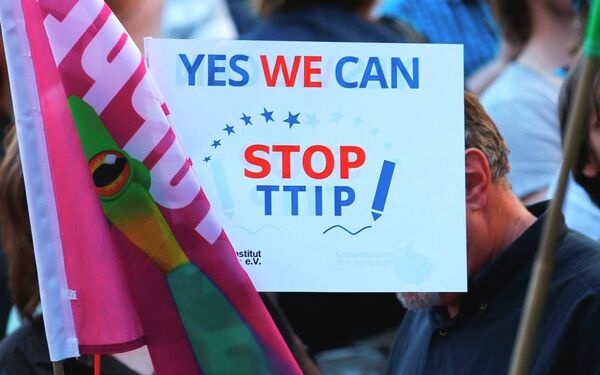 Demonstrators hold a sign against the TTIP contract during a protest
US non-government organizations (NGOs), Hufbauer argued, will also resist provisions that call for converging US health, environment and safety regulations with similar EU or member state rules.
The controversial TTIP agreement seeks to establish a transatlantic free trade zone for a consumer market estimated to contain 820 million people.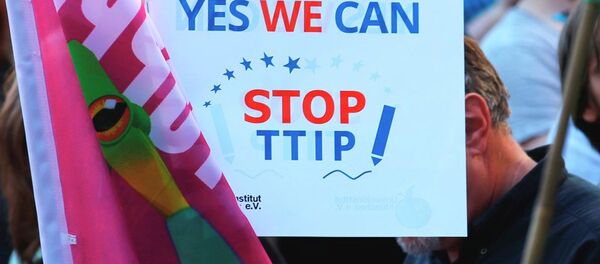 Opponents of the TTIP claim that the agreement limits the rights of individuals and sovereign countries for the sake of multinational corporations and financial industry profits.
This week, more than 2.1 million Europeans signed an online petition opposing the TTIP.
In April, waves of protests against the TTIP spread across Europe, with tens of thousands of people taking to the streets to express their dissatisfaction at the speed and secrecy of the treaty negotiations and the treaty's negative impacts.