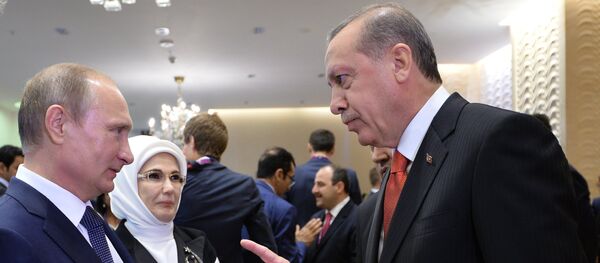 BAKU (Sputnik) —  Presidential aide Yuri Ushakov, Foreign Minister Sergei Lavrov, Energy Minister Alexander Novak, head of Russia's state-run nuclear corporation Rosatom Sergei Kirienko and CEO of Russian energy giant Gazprom Alexei Miller represented the Russian side at the meeting.
After the meeting, the presidents shared impression regarding the first European Games sports event opening ceremony that had taken place on Friday. Erdogan noted that none of the European leaders had showed up for the ceremony.
The European Games bring together some 6,000 athletes from 50 European countries. A total of 20 sports, encompassing 30 disciplines, have been confirmed for the sports event in Baku. Of those, 16 are Olympic sports.
The 16-day tournament is the first high-profile sporting event hosted by the Central Asian nation.