On Friday, the Ukrainian parliament introduced a bill to ban trade with the so-called "temporarily occupied territories." 
Kiev considers the territories under control of the self-proclaimed Donetsk and Lugansk, as well as Russia's Crimea, to be "temporarily occupied."
"If Poroshenko wants to adopt such laws, it would be relevant if he invites Merkel and Hollande and signs them or vice versa — tears them apart and throws them away — right in front of their face. In this case, we will clearly understand what is going on: either the Minsk agreement is completely broken or there is still chance to continue talks if he rejects the law," LuganskInformTsentr cited Igor Plotnitsky as saying.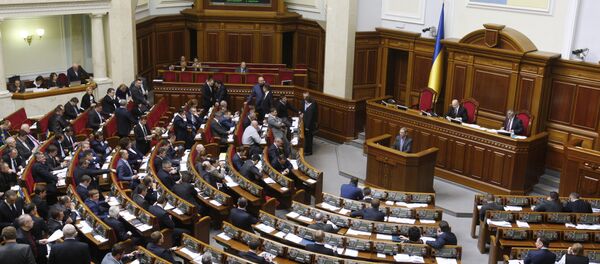 The humanitarian crisis escalated in November 2014, when Ukrainian President Petro Poroshenko signed a decree imposing an economic blockade on the self-proclaimed Donbass republics and withdrawing all state-funded health, educational and social protection organizations from the region under control of independence supporters, who refused to recognize new Kiev authorities that came to power after a coup in February 2014.
In early June, a Ukrainian official said that it is necessary to organize a food blockade of Donbass.