Yet the people who promised to tackle these major challenges but failed to deliver on their promises remain in power.
For the majority of Ukrainians war is the worst time to change those in charge, said Telepolis, a German Internet magazine. "Above all the war in eastern Ukraine is an important stabilizing factor for the current government," the media outlet added.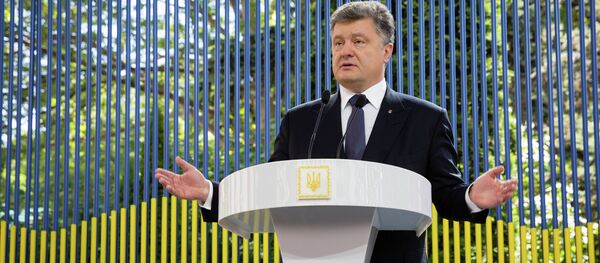 In other words, to remain in power they need to flare the flames of war in eastern Ukraine. But few are willing to fight for Kiev there, Telepolis said.
According to the magazine, there is no one, who could replace Poroshenko or Yatsenyuk. Yet the latter has managed to dash the hopes of almost everyone since the February 2014 coup which brought him to power.
"Ukrainians are not satisfied with the work of current Prime Minister Arseniy Yatsenyuk. Both Ukrainians and the governments in the West viewed him as an ideal candidate at the time of an economic crisis, but in the end almost everyone is disappointed in Yatsenyuk," Telepolis explained.
Generally speaking, "hardly anyone is satisfied with the unsuccessful policies [of the current authorities]," the media outlet said, adding that the Yatsenyuk government has completely failed in some areas, for instance with regard to tax reform.
Why do Poroshenko and Yatsenyuk remain in power then?
Ukrainian society "seems to be too tired to introduce any new changes after the second Maidan revolution," Telepolis concluded.