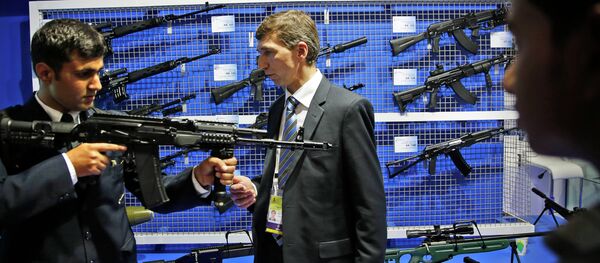 MOSCOW (Sputnik)
–
The inaugural Army-2015 forum will be held on June 16-19 outside Moscow, with more than 1,000 defense companies and weapon manufactures expected to take part.
Kalashnikov will manufacture kits for Russia and Commonwealth of Independent States (CIS) countries special forces under a new "Kalashnikov – 5.45 design" brand. The company is working on integrating modern special unit protections into the outfit.
The soldier kits will include a set of multi-layered clothes (summer and winter sets), equipment (vests, backpacks) and protection (body armor, armored helmets) for special forces soldiers.
The Kalashnikov Concern was created in 2013 in a merger of two Soviet-era plants, becoming Russia's largest producer of rifles and other weaponry.
The company exports its products to 27 countries, including the United States, the United Kingdom, Germany, Norway, Italy, Canada, Kazakhstan and Thailand.