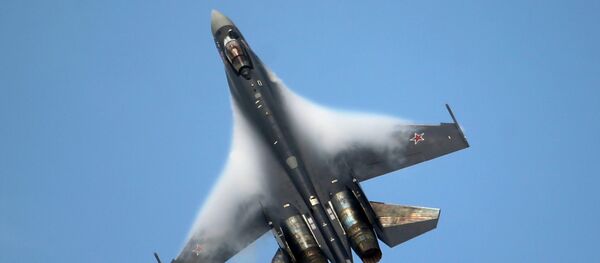 LE BOURGET (Sputnik) — Russia's state technology corporation Rostec will showcase an engine for its famous Sukhoi Su-35 (Flanker-E) at the world's oldest air show in France, the company said on Monday.
Some 37 Russian organizations are expected to be among 2,000 participants from 46 countries at the week-long 51st Paris Air Show at Le Bourget Airport kicking off on Monday.
"We expect the professional community to devote a lot of attention to the AL-41F1S (Izdeliye 117S) engines installed on Russia's multifunctional Su-35 fighter aircraft," a corporate representative told RIA Novosti.
The new engines, it was explained, are intended to serve as transitional engines for fifth-generation jet fighters and will be manufactured by a Rostec subsidiary, the United Engine Corporation (ODK).
The Paris Air Show will feature a 1-3 scale mockup of the bypass turbofan engine with a thrust-vector-controlled afterburner designed for Su-35/35S jets.
The Su-35 fighter was first introduced to a foreign audience at the Paris Air Show in 2013 as a heavily upgraded derivative of the Su-27 multirole fighter touted as "4++ generation."
The 4++ designation signifies that the Su-35's combined characteristics, with the exception of stealth capabilities and active electronically scanned array (AESA) radars, bridge it closer to the fifth generation fighter.