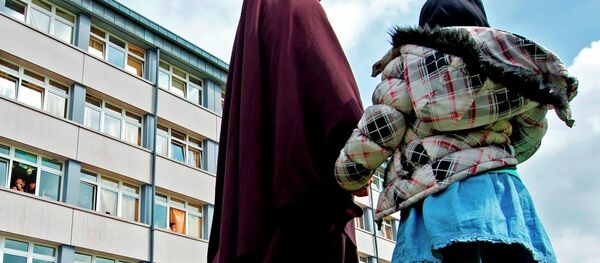 MOSCOW (Sputnik)
–
According to an Amnesty International report, more than 50 million people were displaced from their homes in 2013 in the worst refugee crisis since World War II.
The refugees' countries of origin have received little financial support, and the international community has largely ignored calls to resettle the asylum seekers. Most of the world's refugees are currently hosted by developing countries, which the organization considers a "disproportionate burden."
Millions of people from Syria, South Sudan, the Central African Republic (CAR), Nigeria, Burundi, Somalia, Ethiopia, Sudan, the Democratic Republic of Congo (DRC), Myanmar and Bangladesh have left their homes in the past two years in a bid to escape violence, the rights group said.
"We are witnessing the worst refugee crisis of our era, with millions of women, men and children struggling to survive amidst brutal wars, networks of people traffickers and governments who pursue selfish political interests instead of showing basic human compassion," Salil Shetty, Amnesty International's secretary general, was quoted as saying by the organization.
The rights groups called on the international community to have a summit on the refugee crisis, develop domestic measures for refugee assistance, save refugee lives, as well as combating people traffickers and xenophobia, among other measures.
This year saw the worst refugee crisis in the Mediterranean. More than 1,800 migrants from the Middle East and North Africa have died at sea while attempting to reach Europe so far in 2015, according to the United Nations.
As many as 25,000 Rohingya people attempted to flee persecution in predominantly Buddhist Myanmar in the first quarter of 2015, almost twice the number for the same period last year.